June Book Club - Friday, 16 June
Year 1 & 2's - "
Kumiko and the Shadow Catchers
" by Briony Stewart (Local author)
Year 3 & 4's - "
Jack's Island
" by Norman Jorgensen (Local author)
Year 5 & 6's - "
A Different Dog
" by Paul Jennings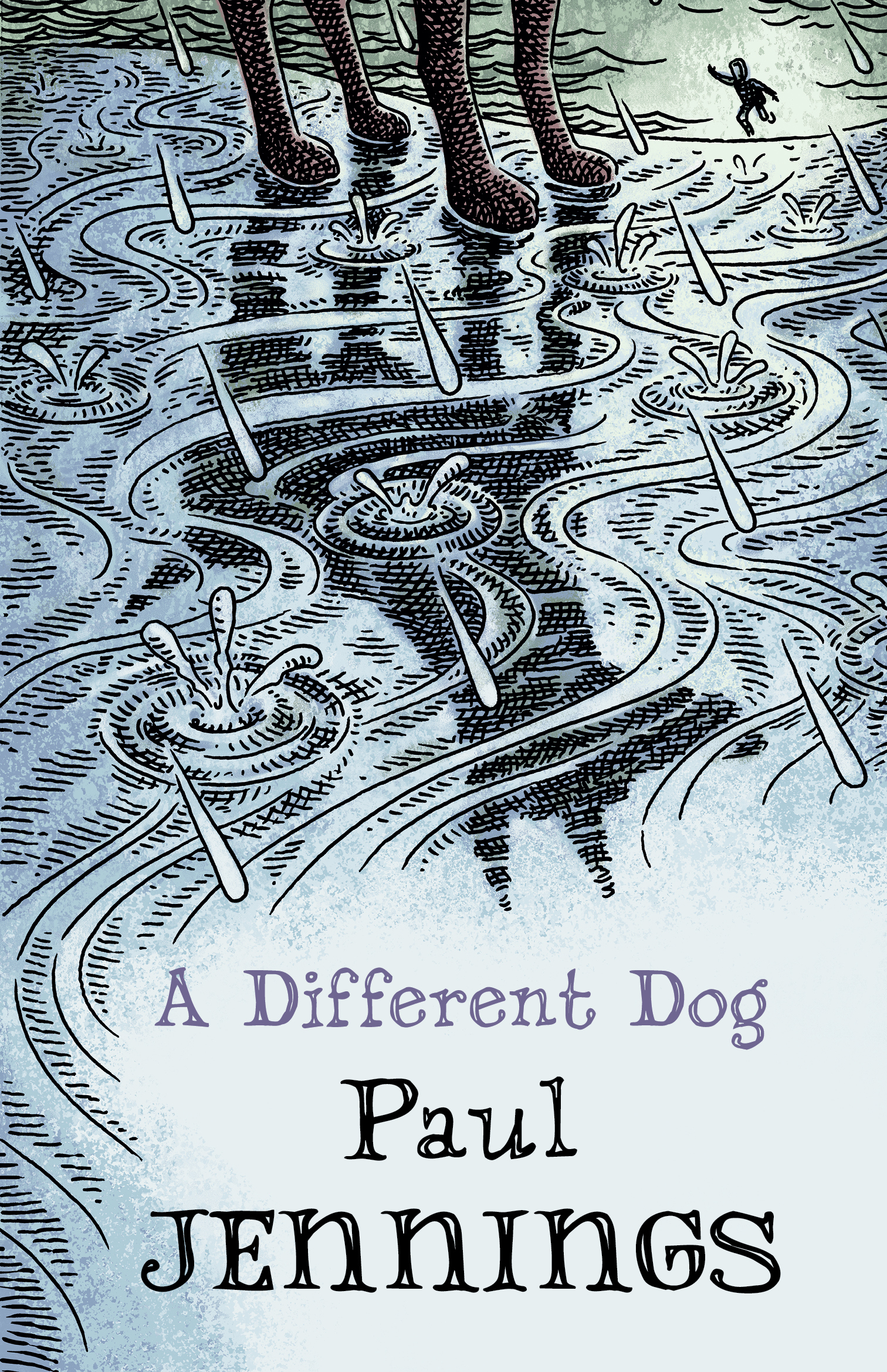 " A Different Dog" by Paul Jennings was not well received by the year 5/6 book clubbers.
Most of the participants found the storyline confusing and were slightly annoyed by the main character's choice of action at various times in the book.
The facilitator and one other child enjoyed the book.
Perhaps it would be suitable for a slightly older reader?
Age recommendation for " A Different Dog" is 10-14.
However, they did enjoy our creative activity!
We transformed photos of dogs to make them unique and "Different".
We had astronaut dogs, dancing dogs, secret agent dogs and clown dogs.
But that is what is great about a book club, learning to discern and find likes and dislikes in writing styles, characters, genres etc.
YA - "Paper Things" by Jennifer Richard Jacobson
May Book Club - Friday, 19 May
Year 1/2 - "Looking Up" by Sally Murphy
Year 3/4 - "Riddle Gully Runaway" by Jen Banyard
Year 5/6 - "The Beast of Hushing Wood" by Gabrielle Wang
YA - "Frogkisser" by Garth Nix
The YA Book Clubbers enjoyed Garth Nix's "Frogkisser". It was a fun and adventurous read with many unusual and diverse characters. We talked about how Garth Nix is breaking Fairy Tale stereotypes in this book. Snow white was a male wizard with a long white beard, princess Anya was an adventurous and competent protagonist, many of the knights were female as were a few of Snow Whites seven dwarves.
We conjoured up our own characters that were half animal half human. We drew them and then worked on character development for our creatures, coming up with some fantastic creations.
April Book Club - Friday, 28 April
We had a very exciting April book club with 2 writers joining Book Club. Catherine Carvell joined the Year 1 & 2's to hear their reviews of "Darcy Moon and the Deep Fried Frogs", and Mark Greenwood joined the Year 3 & 4's to hear their reviews from March of "History Mysteries: Diamond Jack". We are also had contact with the author of "The Bone Sparrow", Zana Fraillon, with the YA Book Club. "The Bone Sparrow" has just been shortlisted in the CBCA awards for 2017.
Year 1/2 - "Darcy Moon and the Deep Fried Frogs"
Year 3/4 - "Frankie Fish and the Sonic Suitcase"
Year 5/6 - "Cogheart" by Peter Brunl
YA - "The Bone Sparrow" by Zana Fraillon
All of the Young Adult Book Club members agreed that this was a powerful and moving book. They were interested in the writers portrayl of life inside a detention centre in Australia. They appreciated the beautiful writing style of Zana Fraillon and felt moved by the characters hardships and joys.
We all wrote a letter of hope and support to a child in a detention centre through the programme "Befriend A Child In Detention". This was an enjoyable, proactive way for the Book Clubbers to feel connected to the issue of children in detention.
Subhi's imagination is as big as the ocean and wide as the sky, but his world is much smaller: he's spent his whole life in an immigration detention centre. THE BONE SPARROW is a powerful, heartbreaking, sometimes funny and ultimately uplifting hymn to freedom and love.
Shortlisted for Guardian Children's Fiction Prize 2016
Longlisted for the Gold Inky Award 2017
Longlisted for the 2017 CILIP (Chartered Institute of Library and Information Professionals) Carnegie Medal
Selected as a Children's Book Council of Australia Notable Book 2017
March Book Reviews
Year 1/2 Book Club 17/03/17 - Pearl Versus the World, by Sally Murphy
The kids were curious about exploring the end of a family member's life in this book. They could relate to how Pearl often felt alone, even when they had friends around her. They also talked about how Pearl's family of two had changed with the death of her grandmother. The kids were interested in the prose style and how it differed from other books they have read. The creative activity was to make a poem about themselves through drawing a picture and writing the words around it.
A moving illustrated verse novel about a girl dealing with isolation at school, and with her grandma's illness at home. At school, Pearl feels as though she is in a group of one. Her teacher wants her to write poems that rhyme but Pearl's poems don't. At home, however, Pearl feels safe and loved, but her grandmother is slowly fading, and so are Mum and Pearl. When her grandmother eventually passes away, Pearl wants life to go back to the way it was and refuses to talk at the funeral. But she finds the courage to deliver a poem for her grandmother that defies her teacher's idea of poetry - her poem doesn't rhyme; it comes from the heart.
A powerful and moving story about loss, grief and isolation.
Deals with sensitive issues of dementia from the child s perspective.
Year 3/4 Book Club 17/03/17 - History Mysteries - Jack's Diamonds, by Mark Greenwood
"Awesome" The kids in this group loved the adventure and real-life mystery that surround this story. They thought it was scary what the characters went through in this war time setting and we talked about the dilemmas presented in the book about what they would have done making a discovery of a parcel of diamonds. They are looking forward to meeting writer, Mark Greenwood, at the next book club session to ask him questions about how he used the newspaper material to come up with the story.
In March 1942, an aircraft prepares for a desperate midnight escape, taking refugees to safety in Australia. Just before take-off, the pilot is entrusted with a mysterious, wax-sealed package.But when the plane is shot down by the enemy and crash lands on the Kimberley coast, the package is forgotten. Until someone stumbles across the find of lifetime ...
Year 5/6 Bookclub 17/3/17 - Mrs Whitlam by Bruce Pascoe
Marnie Clark of Curdie Vale can ride but she doesn't have a horse. She dreams of owning one and having the whole world to ride it in. Before too long Marnie is gifted Mrs Margaret 'Maggie' Whitlam, a beautiful, big Clydesdale - bold, fearless and able to jump anything.
From the very first ride, Marnie and Maggie get more adventure than they bargained for. Soon Marnie is learning to negotiate newfound friendships, pony club and how to stand up for what she believes in. Will her friendship with George Costa, another outsider, make being accepted harder? Or will being true to yourself be the hardest decision Marnie makes?
Strong themes of place, family and country.
YA - Young Teens Book Club 24/03/17
In our village we had two treasures: the River, which was our road and our god; and the Book, which was our history, our oracle and our soul. Simbala is a Keeper of the Book, the latest in a long line of women who can read the Book to find answers to the villagers' questions. As developers begin to poison the river on which the villagers rely, the Book predicts change. But this does not come in the form that they expect; it is the sympathetic Westerner who comes to the village who inflicts the greatest damage of all.
"A good book to read if you are interested in adventure, if you have a heart, and want to protect the environment". "Its about displacement because they have to leave their homes due to the destruction of their environment". (Book Club)
Book Clubs

$20/session - book included
Monthly starting again on Fridays from 10 March 2017, 3.30-4.30pm at Paper Bird
Friday Groups:
Year 1/2 (Early readers)
Year 3/4 (Junior Fiction)
Year 5/6 (Middle readers)
Young Adult Fiction (Young Teens)
Each group of kids are given a book to read monthly before meeting at Paper Bird to review the book. In the younger years some kids will read for themselves and some kids will choose to read their books with their parents.
A facilitator will help each group discuss the book give them the opportunity to get creative. The kids will be assisted to write a group review for the website and bookshelf and to do some illustrations, craft or sculpture inspired by the book. We hope that all our reviews at Paper Bird will be done by kids.
Places are limited to 10 in each group, so book now by emailing hello@paperbird.com.au. Make sure to tell us your child's name & year level.